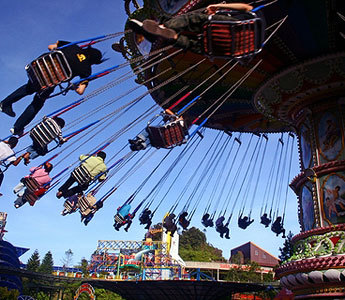 Save Money on Days Out
A family day out is a great way to relax and have fun with your loved ones. The cost of days out can soon mount up though, so read on for suggestions that won't break the bank.
The great outdoors is a fantastic source of fun days out and best of all its free. Often the only money you will have to spend is the cost of arriving at your destination, whether you travel by train, bus or car. Whether you go for a walk in the country or stroll on the beach, a picnic in the park or paddle in a lake, even cities have green spaces that provide plenty of opportunity for fun in the fresh air.
Pay a visit to your local tourist information office to find out what there is to do in your local area. Bus and train companies often stock leaflets with suggestions on places to visit for days out and sometimes run special offers and family discount tickets. Several parks and local authorities run free activities during the school holidays including nature trails, guided walks and even theatrical performances. Try searching online to find out what's on and keep an eye on the local press.
The zoo is always a hit with old and young alike, so look out for discount vouchers and special promotions offering cut price entry. Theme parks are another popular choice, but can be very expensive. If you are determined to visit a theme park, consider booking tickets in advance to save money and again look out for discount vouchers online and in newspapers.
Visiting museums or galleries is a great way to soak up some culture while you relax. Some museums have more than enough to keep you entertained for a whole day and many offer free entry and special activities for kids. Check tourist information websites to see what is available in your area and ring ahead to check admission prices and opening times.
If you are able to take a day off during the week you will save money and hassle when going on a day out. Travel fares and entry tickets are often cheaper from Monday to Friday as businesses are keen to attract more customers at off-peak times. You also have a more relaxing experience as theme parks, museums and galleries will be less packed.
We live in a country where the weather is unpredictable so save money by being prepared. Always take sunscreen, hats, umbrellas and raincoats with you to avoid having to buy them while you are out. The cost of eating in cafés and restaurants can soon bump-up the cost of your day out too, so try to find out in advance if the place you are visiting allows you to bring your own food.
With a bit of planning and preparation, you can have a fantastic day out and save money at the same time. The internet is a great source of ideas and inspiration, so start your research early and plan ahead to get the best deals.