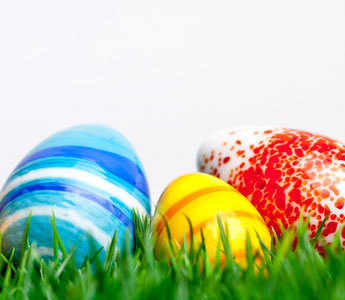 Easter Money Saving Tips
Spring is in the air, the nights are getting lighter and the grass is beginning to grow which means that the Easter holidays are nearly here. Easter can be expensive but not if you know what to do to save money and still have a great time.
Easter is all about Easter eggs. They are not mandatory but before buying the first egg you happen to see for friends and family, take time to shop around. Many supermarkets and large stores offer money off and 2-for-1 deals on eggs so be a canny egg shopper. Consider too buying your eggs in discount supermarkets. Just as tasty and considerably cheaper. And why do you think you have to buy the largest eggs in the store when smaller and cheaper ones will do just as well?
The other traditional expense at Easter is hot cross buns. Again you will find these on offer at your supermarket but it can be cheaper and considerable fun to bake these for yourself. These can even be frozen. So bake a batch, freeze what you don't need for later and save yourself some money at the same time.
Maybe you might want to go away for the holiday weekend. Here the idea is to give as much notice as possible to bag the best discounts but if you can travel at off peak times there are still some great bargains to be had on planes, trains and buses. And there are some great last minute deals still available on accommodation at home or abroad. Go online and check out the deals.
If you are looking to take a break in this country remember that most museums and art galleries are free to enter. It is always an idea when looking to take a break in this country to avoid the main tourist towns and cities, to stay in the suburbs and for the best bargains, stay in budget accommodation hotels or even better in bed and breakfast.
An Easter Egg Hunt is a great way to keep the family amused over the holiday period. You can organise these for yourself around the house and garden but the National Trust are organising Egg Hunts at their properties. It might cost a couple of pounds but for that you also get face-painting and lots of chocolate as well as the Hunt itself. Loads of cheap fun.
If you have hoarded Nectar or Tesco Clubcard points from your weekly supermarket shop, these can be used to pay for entry to theme parks, tourist attractions and other places to visit and see.
Finally and this is the best money saving tip of all, fix a budget for your Easter break whether you are staying at home, taking day trips or having a mini break and stick to it. Avoid impulse purchases and buying things that are not needed or activities that are extravagant. You will be amazed how much this will save you.
Have a great Easter. And don't forget to count the pennies saved afterwards.